Browse Categories
Certifications
Subscribe

Get email updates on new products
Contact us

Tel: +86-28- 8519 8642
Fax: +86-28-8593 8404
Email: sales@onekingroup.comContact Now
waterproof mgo board specially for structure wall of light steel house
Standard size: (LxW) 8'x4',9x4',10'x4'
1220mmx2440mm,1200x2400,2750mmx1220mm,3050mmx1220mm
Thickness: 3mm-30mm
Usage: 1. Structure wall
2. Structure flooring
3. Structure roofing and ceiling
Note: for structure not for decoration, need decoration board onto the structure board.
Certificates: ASTM, SGS, INTERTEK, CNAS,CE
Main market: Grade A+ for UK and US
Grade A and B for other market
Note: to meet different country for requirement of building materials
Color: white/grey
We all know that to be as basic wall materials, like fiber cement board, gypsum board, calcium silicate board, all are not waterproof in fact, including mgo board (magnesium oxide board). The only difference to water between them, is the water absorption rate. To compared to other boards, Onekin green board (mgo board) with much lower water absorption rate. We are chasing waterproof building materials quite a lot of time, but in fact, for a structure wall, really no need since waterproof technology and materials can add too much of cost. Far more than process a waterproof decoration treatment. For a structure wall, what we should concern much is the strength.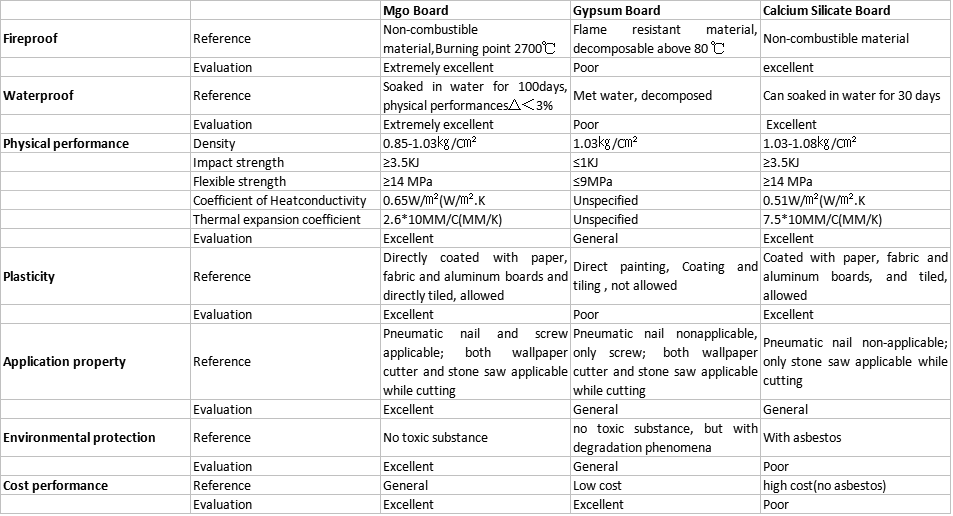 Of course, because most of area are high humidity, the reaction to humidity is very important performance for building materials. From one of our clients project in Fiji, where is very high humidity and quite a lot of rains, they test different boards on site, while fiber cement board with high water absorption and expended a lot, cause crack of wall, gypsum board also blended for roofing because of high humidity, and MDF board with mildew, only mgo board no much difference. But if you are using unqualified mgo board from small factory in China, then it will cause even worse condition than other materials.
In fact, Onekin did develop a kind of mgo board which is waterproof, with wood look, which first in fact developed for one of our clients in UK, while they need a imitate wood looking wall but fireproof and waterproof. And we succeeded finally. This only be used for external wall cladding.The following picture show a project in Hainan province, where also very high humidity and a lot of rain and hurricane. If you want to know other wall materials from Onekin or the wood look mgo board, you can message us here.
Onekin Green Building Materials Co., Ltd.
Tel:
Contact Person:
Other Products