Onekin provides full range of before and after sales service

As a professional green building materials supplier, Onekin always trying to provide better alternative or replacement to traditional construction wall materials like concrete panels, AAC blocks, sandwich panels etc, and the most effective response to our customers, with best quality products and full range of before and after sales service.
Onekin always follows the principle of "Customers First, Employees second, Shareholders last." It is a fast growing company, supplying high quality of products with full ranges of after sale services. It consists of different professional teams including:
1. Technology research center to ensure the formulation and product's innovation.
2. Strict Quality control team to ensure high quality. ( For more information about QC, please click HERE or contact our sales. )
3. Engineering team with architectural design and installation to ensure the smooth project development.
4. Professional international sales team to ensure effective communication and transaction.
5. Full ranges of after sales service system to solve problems quickly.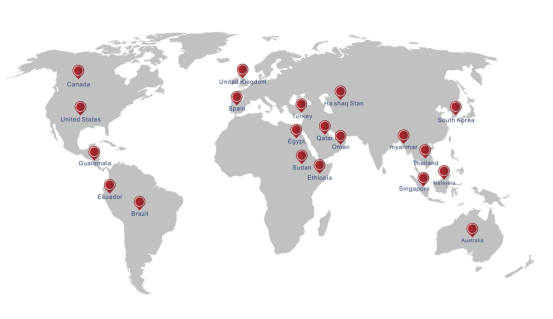 With high quality, best price, outstanding performance and the most sincere manner, Onekin has cooperation with clients around the world. Many of our customers have used other materials such as concrete panels, foam concrete, AAC panels and sandwich panels before, but we win their trust by providing them with perfect before and after service and high quality products. As the above picture shows, our customers throughout the world. Every year we have customers come to visit our company and our factory. In the spirit of cooperation and mutual benefits, Onekin cherishes our currently customers and warmly welcome new partners.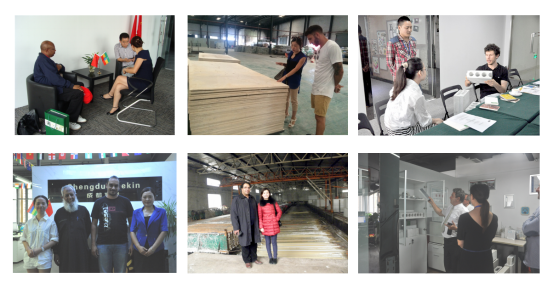 As the company grows, our green wall panels are used more and more extensively in building construction like the concrete panels in the old time. Except our head office, we still have branch office and some agents using Onekin brand to serve customers from different country, and from those place nominated, you can get our products with credit.
Head Office:
ONEKIN GREEN BUILDING MATERIALS CO.,LTD
Add: 138#Tianfu Street, High Tech Area, Chengdu, Sichuan, China.
Tel: 0086-2885198642
Email: sales@onekingroup.com
Skype: onekinco
Ethiopia Branch Office:
Onekin Green Building Ethiopia Office
Add: Addis,Ethiopia
Contact person: Haile
Tel: 0025-1911162209
Our Agents:
Oman:
Company name: Al Tasnim Middle East LLC PDT, Pruduct Dealership and Trading Division
Add: P.O. Box 103, PC- 113, Muscat, Sultanate of Oman.
French Guyana:
Company name: SIN IMPORTATATIONS ET NEGOCES
Add: 20 RUE ROUGET DE LISLE 97300 CAYENNE, FRENCH-GUYANA.
Contact person: Prazeres Esteves
Tel: 0059-4594388635
Email: prazeres.esteves@ctsbrasil.com esteves@sinimport.com
Israel:
Company name: ASAF DOTAN STB ADVANCE SOLUTION LTD
Add: GIVAT HEN 7 GIVAT HEN, ZIP CODE:43905, ISRAEL
Contact person: Asaf Dotan
Tel: 00972-544588545
Email: a.dotan@stboards.com
Maldives:
Company name: Design Built Solutions Pvt Ltd
Add: Ma. Boagun Villa (Annexe) Radhdhebai Magu Malأ© Maldives
Contact person: Mr. Munshid Mohamed
TEL: +960 999 6056
To provide better service for customers around the world. We are searching for the agents and distributors all over the world, If you are interested in our products and willing to cooperate please contact us. We look forward to working with you.